Organization Design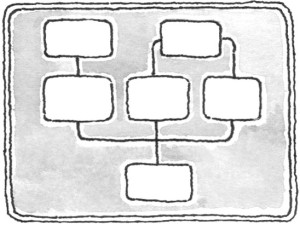 How fast or slow do you need to be? How do market conditions influence this decision? What's the "clock-time-to-market" expected in your particular industry?
Consider the example of a company dedicated to assemble and publish information regarding chemical substances for the public and private sector. As more and more substances were being produced, there was a greater need to re-assess its "clock-time- to-market" to satisfy the organization's internal and growing external network of relationships. When Interloqui®️ first met with the firm, it was organized much like a series of railroad freight cars. Work passed from one railroad car (scientist) to another for review until it finally reached the finished line. After analysis and assessment, it was clear that review of certain products needed more analysis; but others could follow a fast track through an initial team evaluation by experts in various process areas.
The result: The company didn't need to be fast or slow, necessarily, but both.
Organizational Culture and Change
How does an organization develop a culture for innovation? for caring? for appreciation of quality? And how does this organization assure that a "healthy" culture will stay healthy even in times of growth and change?
Consider the stevedoring company—a subsidiary of a large parent organization—that contacted Interloqui®️ for this very reason. It was experiencing exponential growth, and wanted to be sure that its values of over 100 years would be assured through training and development efforts. Interloqui®️ evaluated organizational growth against the company's strategic direction. The following testimonial conveys the importance of an advisor that understands the integration of human performance, organizational effectiveness, and market analysis:
"Recently I was offered an opportunity to explore reframing our organization with Dr. Elaine Potoker. It was indeed an overwhelming experience. Dr. Potoker had taken me through her approach on the subject of culture and experience and had demonstrated a truly deep understanding of this area to which she also added a bit of personal touch. It was amazing how Dr. Potoker was able to come up with guidance and practical tips to explore issues we were dealing with and whatever the subject of our exploration was. Dr Potoker's approach was very knowledgeable and her engagement was absolute. I left the session feeling empowered and with plethora of practical exercises to work on. I feel our business had started a journey towards reframing our organization.

I am very grateful to Dr. Potoker for the given opportunity and would recommend her services to others experiencing similar organization challenges."

Rickey Childs, Director of Terminal Services
Or this non-profit organization looking to find its mission and the pathway to fulfill it:
"The Maine Chapter of the Fulbright Association (http://fulbright.org/) is a not-for-profit organization that was established approximately 8 years ago. Dr. Potoker is a member of our Board since inception, Chair of the Strategic Planning Committee, and currently, Interim Chair of the Marketing Committee. Elaine has been instrumental in development, facilitation, and implementation of our Strategic Plan as well as guidelines for assessment of performance. She is dedicated to whatever responsibility she takes on, and has proven to be particularly insightful regarding the workings of organizations—particularly in her knowledge of how to define and help advance the mission of an enterprise, while insuring member involvement and buy in along the way. She also helped us define the roles of our officers and Committees and assure they were aligned with the goals and objectives of the Chapter. The results have been outstanding, and the reason it has worked so well is that Elaine did much of the initial research and provided a draft for her committee, and ultimately the whole board, to react to; thus ensuring buy in from our group: We all feel a part of the planning process and motivated to move it forward.

I am very pleased to give my strongest endorsement to Dr. Potoker, and am confident she, through Interloqui®️, will provide outstanding service to any organization looking to improve and assess their organizational effectiveness.

Robert Lively
President
Maine Chapter-Fulbright Association
Note: Elaine Potoker became President-Elect of the Maine Chapter, Fulbright Association in 2018, and was Chapter President from 2019-2021. She currently serves as an Advisor; she was recognized by the National Fulbright Association for her leadership
https://fulbright.org/2020/06/30/chapter-spotlight-maine-2/.